Parallel Nipper 35⁰ for electronics, ENGINEER NZ-13, Super-fine Reverse Blade - Full flush & super-fine cutting edge. Handles coated with elastomer, pleasant to the touch, very comfortable when holding it in the palm. The handles provide protection against electrostatic discharge.
The blade and handle of the nipper are placed parallel!
Reverse blade makes it possible to cut IC lead in front of user with the best view while holding nippers vertically against circuit board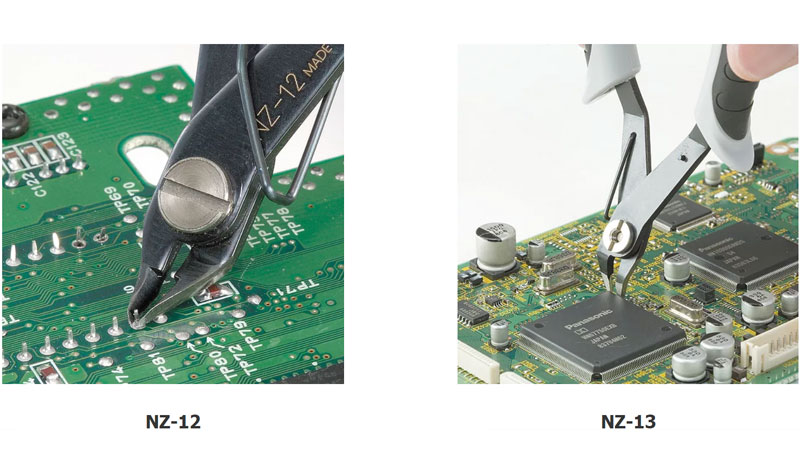 The angle between the blades and the body of the nipper is 35⁰, thus calculated for the most ergonomic working position
With a length of 125 mm and only 45 gr. weight, this parallel nipper becomes the favorite of the electronic artists!

Features:
Ideal to cut an IC lead of a narrow-pitch QFP or SOP with slender shears (0.3mm+0.3mm width at top)

Ergonomic elastomer handle for comfort gripping

Light weight of 45 g only

Enables you to make flush cut of a lead easily so as to prevent resist stripping or solder crack on the circuit board
Model

Size

Weight

Grip Width

Jaw Width

Blade Length

Material

Cutting

Capacity

125

45 gr

50

10

7

S55C

copper wire

NZ 13

diam. 0,6 mm
Material: Otel carbon
Overall length: 125mm
Length of cut: 7mm
Maximum diameter: 0.6mm
Protection working under voltage: Nu
Package Contents: Cleste sfic electronist ENGINEER NZ-13 reverse, 125mm, fabricat in Japonia
Produced: Made in Japan
Color: Black,Grey
The products found on the site www.sancogrup.ro are present and on public procurement SICAP platform, under the registration of the CPV concerned;
You have chosen a product or service from nooastra offer, you want to purchase and is not available in the SICAP? Contact us to publish;
Payment can be made by OP, before delivery at our treasury accounts in the 24-30 days of the month.