Riveting pliers
(for pop rivets or blind rivets) are good for fixing hard materials like metal sheets together, especially in areas with limited access.
You can use the them to attach mud guards and other car parts, as well as drain pipes and gutters.

Rapid offers a number of different riveting pliers and a wide range of rivets and eyelets.
Good to know about riveters
Riveters come in various forms. As the name suggests, press-free riveters do most of the work for you and are ideal for tougher fastening jobs.

A 360-degree pivoting head riveter is great when working in awkward positions – on a car's underside for example.

With a multi nozzle riveter there is no need to think about rivet diameters.
No matter what type of riveter you use, the main advantage is the same: to make a firm, long lasting fastening without access to the backside of the material.
But which jobs are riveters designed to tackle?
Sheet metal work
When secure, permanent fastening of sheet metal is required; a riveter is the best solution.

With this tool, you can attach a nameplate or street number plate on any sheet metal surface.

You can repair waterspouts and guttering, install and assemble a greenhouse and they can even be used for boat and car sheet metal repair jobs.
Automotive
Car mechanics, bodywork specialists or DIY car enthusiasts often require a riveter.

Amongst many jobs, they can be used for attaching new license plates or mudguards to a motorbike or bicycle and repairing a muffler or exhaust system on a motorbike, lawnmower or similar.
Other popular uses include attaching plastic parts such as spoilers or mud flaps, repairing damaged or rusty metal surfaces by bonding fresh metal sheets on top of damaged areas.
Fix and repair
There are many uses for a riveter at home. These include decorating bags or clothing, attaching or strengthening wheels on hand luggage and repairing bag handles.
Other possible applications are repairing broken tin or metal toys, repairing metal photo frames and fixing leather or bonding leather with leather or textile.
See all of our riveters

How do I use a riveter?

Fixing with rivets is easy. In a few, quick steps you will get a tight, secure and permanent bond.

1. Measure the thickness of the two materials to be fixed together. Select the suitable rivet size. View our guide to choose the right rivet size.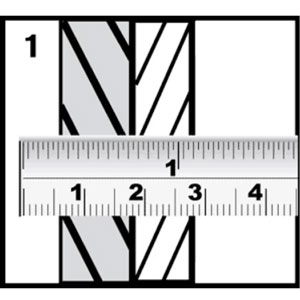 2. Use the drill bit provided with your rivets to make a hole with the required diameter through the materials being fixed together.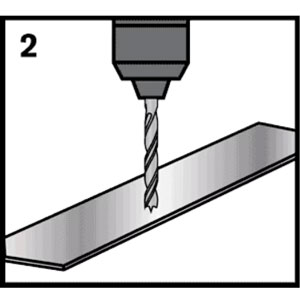 3. Open the handles of the riveter and insert the thin end of the rivet in the nozzle. If you don't have a Multi Nozzle riveter you need to make sure the nozzle matches the rivet diameter.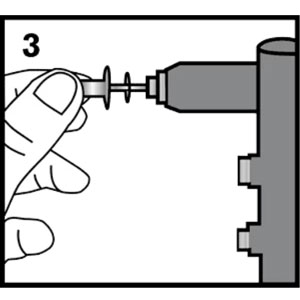 4. When the rivet is in the nozzle, slightly squeeze the handles together to grip the rivet. Then place the head of the rivet in the pre-drilled hole.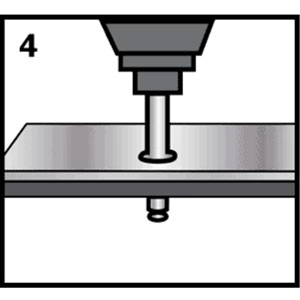 5. Close the handles of the riveter several times until the axis pin of the rivet breaks. Now the parts are fixed together.