Handy Crimp Ultra-precise Pliers ENGINEER PAD-02, ultra-precise crimper forming excellent crimping finish!

Interchangeable die set for open-barrel contacts.
Easy replacement and perfect fitting to frame
Ergonomically-designed handles with strap hole
Equipped with wire stripper and cutter
2.5mm (Across flats) Hex key wrench included as standard accessory

The kit includes:

1. Ultra-precise ENGINEER PAD-11 multifunctional crimping pliers (includes PAD-11S)
2. PAD-12S Die Set
3. PAD-13S Die Set
4. 2.5 mm hex key wrench
5. 6 transparent plastic boxes for storing different types of connectors (20 x 29 x 16 mm). Note: Terminals are not included in this set
6. Durable and elegant hard plastic briefcase (HDPE) with metal locks, external dimensions 300 x 200 x 63 mm, inside sponge

Features:
Precise crimping and excellent curling of wire and insulation barrels individually

Wire cutter with stripping hole

With strap hole

Clamp lock button
Specifications:
Length: 205 mm

Width head: 47 mm

Maximum diameter: 3.7 mm

Material: Special alloy steel

Hardness: HRC 58±4

Kit weight: approx. 910 g

Briefcase dimensions: 300 x 200 x 63 mm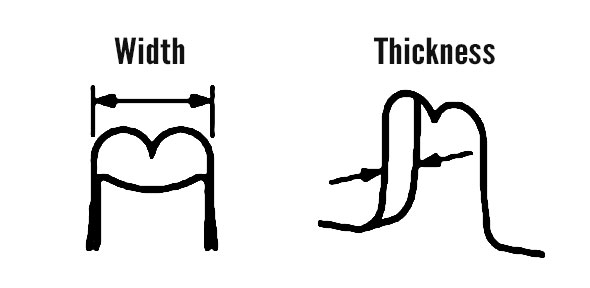 How to adjust the Joint-Screw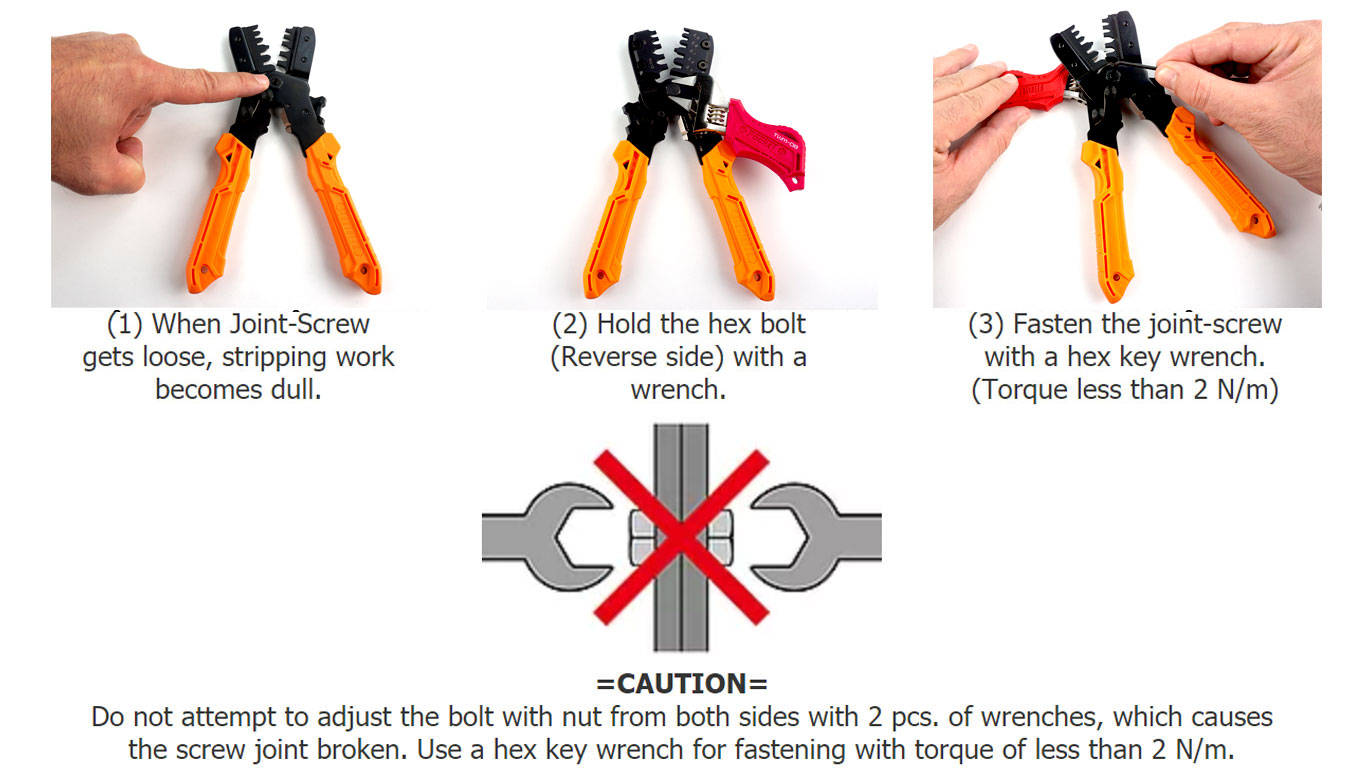 Caution!

Do not attempt to adjust the bolt with nut from both sides with 2 pcs. of wrenches, which causes the screw joint broken. Use a hex key wrench for fastening with torque of less than 2 N/m.

Note!

Before use, please make sure that wire size meets the standard provided by each connector maker and that the configuration and size of terminal is adaptable to the crimping dies
Adjust both wings of open-barrel to be in parallel before crimping.
Make sure that connector pin retains straight before insertion into a die cavity.
Do not lay the contact pin inclined in a die cavity to avoid deforming in crimping work.
Do not squeeze handles so hard while crimping insulation portion, which may cause disconnection of wires.

Specifications:
Item no.

PAD-11

PAD-12

PAD-02

Die W (mm)

0.7

1

1.3

1.6

1.9

2.2

2.5

2.8

3.1

3.4

3.7

Die H (mm)

0.23

0.33

0.44

0.54

0.64

0.76

0.84

0.95

1

1.15

1.26

Die T (mm)

1

1.5

2

2.5

3

3.5
Item no.

Tool Frame

Die Set

Material

PAD-11

PAD-10 + PAD-11S

Frame and Die Set: Special alloy steel
Handles: TPR

PAD-12

PAD-10 + PAD-12S

PAD-02

PAD-10 + PAD-02S
Interchangeable die set

Over 300 crimping of various open-barrel contacts applicable by assortment of 3 different die sets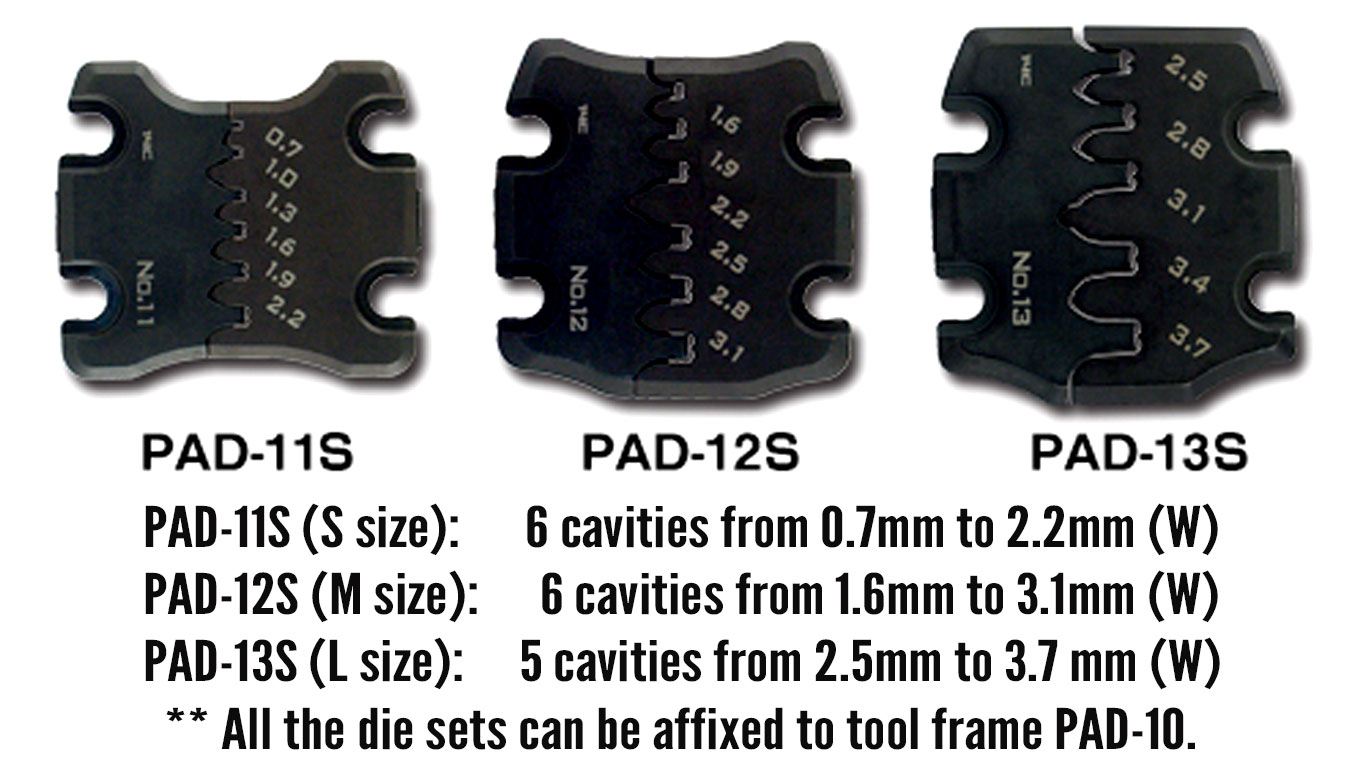 Other video presentation, Source Engineer Japan:
Material: Elastomer,Otel special aliaj
Overall length: 205mm
Cutting head width: 47mm
Maximum diameter: 2.2mm
Protection working under voltage: Nu
Package Contents: Cleste sertizare papuci, multifunctional ultra-precis, ENGINEER PAD-02, bacuri interschimbabile,3 seturi,incluse de la 0.7 la 3.7 orange, fabricat in Japonia,Bacurile PAD-12S care acopera de la 1.6 la 3.1,Bacurile PAD-13S care acopera de la 2.5 la 3.7,Cheie imbus cu amprenta hexagonala de 2.5mm,6 cutiute cu locas special pentru papuci,Servieta PVC rigida pentru transport
Produced: Made in Japan
Color: Black,Orange
The products found on the site www.sancogrup.ro are present and on public procurement SICAP platform, under the registration of the CPV concerned;
You have chosen a product or service from nooastra offer, you want to purchase and is not available in the SICAP? Contact us to publish;
Payment can be made by OP, before delivery at our treasury accounts in the 24-30 days of the month.