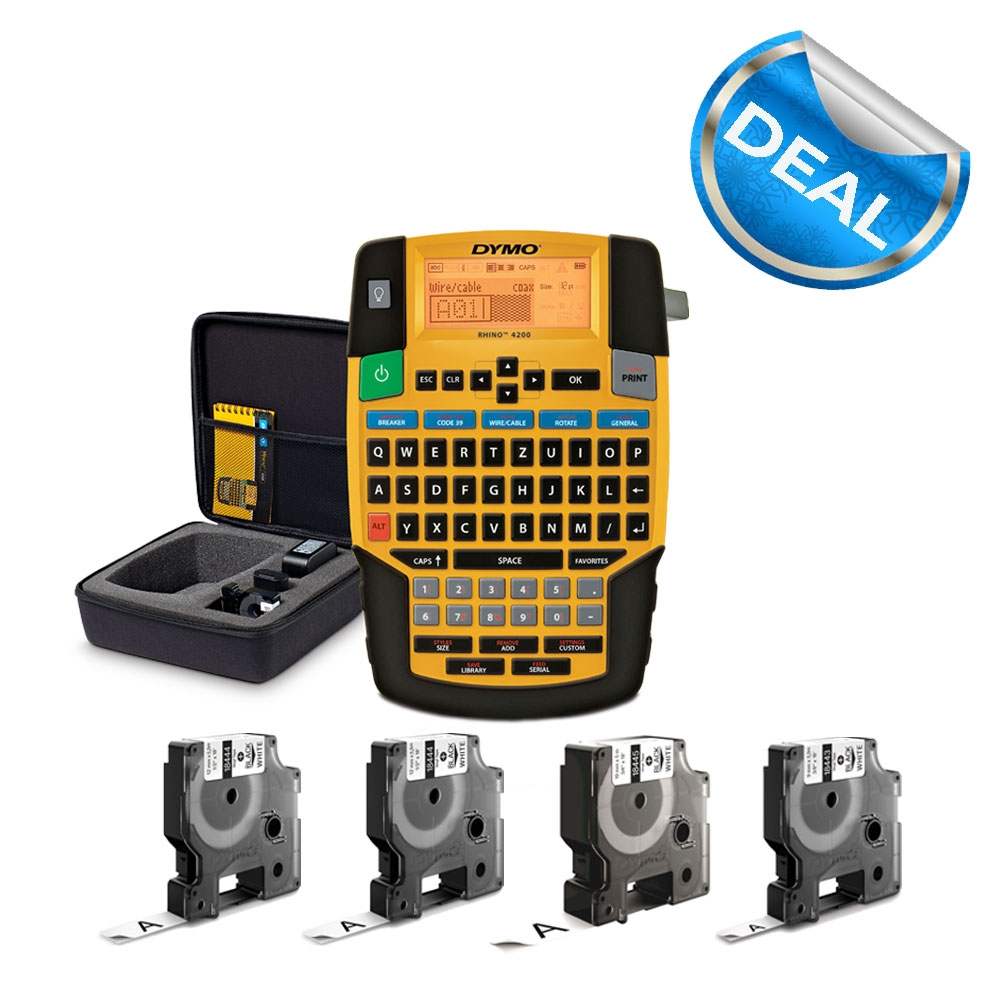 Industrial labeling machine Dymo Rhino 4200 kit with briefcase, QWERTY, one of the most appreciated labeling devices by installers.
Recommended for telecommunication labeling, structured networks, surveillance and alarm systems, PRO AV, electrical components.
Quick functions useful for quickly editing wires and cables labels, barcodes, signaling and warning, etc.
"Hotkeys" to shorten the steps to reach the desired label format. Thus, with one touch you have available quick, professional formatting of industrial labels and many other labeling options that save time.
We can say that the DYMO Rhino 4200 labeling machine speeds up the labeling processes. In addition, you do the labeling correctly.
Printing Type: Thermal transfer
Functions: Automatic shutdown,Hot Keys,Fixed Length
Weight: 1.136 g
Package Contents: Rigid textile,Li-Ion Battery,Adaptor la retea 230V,Quick user guide,Etichete industriale autocolante, DYMO ID1 vinil, 12mm x 5.5m, negru/alb, 18444,Aparat de etichetat industrial (imprimanta etichete) DYMO Rhino 4200 DY955950 S0955950,Cleste patent extragere suruburi rupte ENGINEER PZ-22, 175mm,165g, verde, fabricat in Japonia
Resolution (Dpi): 180
Power Supply: AC Source,Accumulator,Battery
Connection: Nu
Battery type / number: 6 AA,Li-Ion battery
Consumables Used: Industrial (ID1) All-Purpose Labels
Keyboard: QWERTY
No printed labels / min: Nu
Applications: 5S Visual Identification,Assets,Barcoding,Cables & Wires,Electrical,Facilities & MRO,Networking Components,Pro AV/Security
Range: Rhino
PROMO Bundle: Yes
Maximum label width: 19mm
Print speed: 15mm/sec
Screen: Monocrom 2.56 inch
Free App: Nu
Text lines No: 5
Cutter Type: Manual
Library Symbols: 150
Vertical writing: Yes
Mirror writing: Yes
Memory: 25 labels/last label
Warranty: 2 years
Barcode: Yes
Fonts Type: Normal,Bold,Italic,Underline
Compatible operating systems: No
Consumables and accessories
---