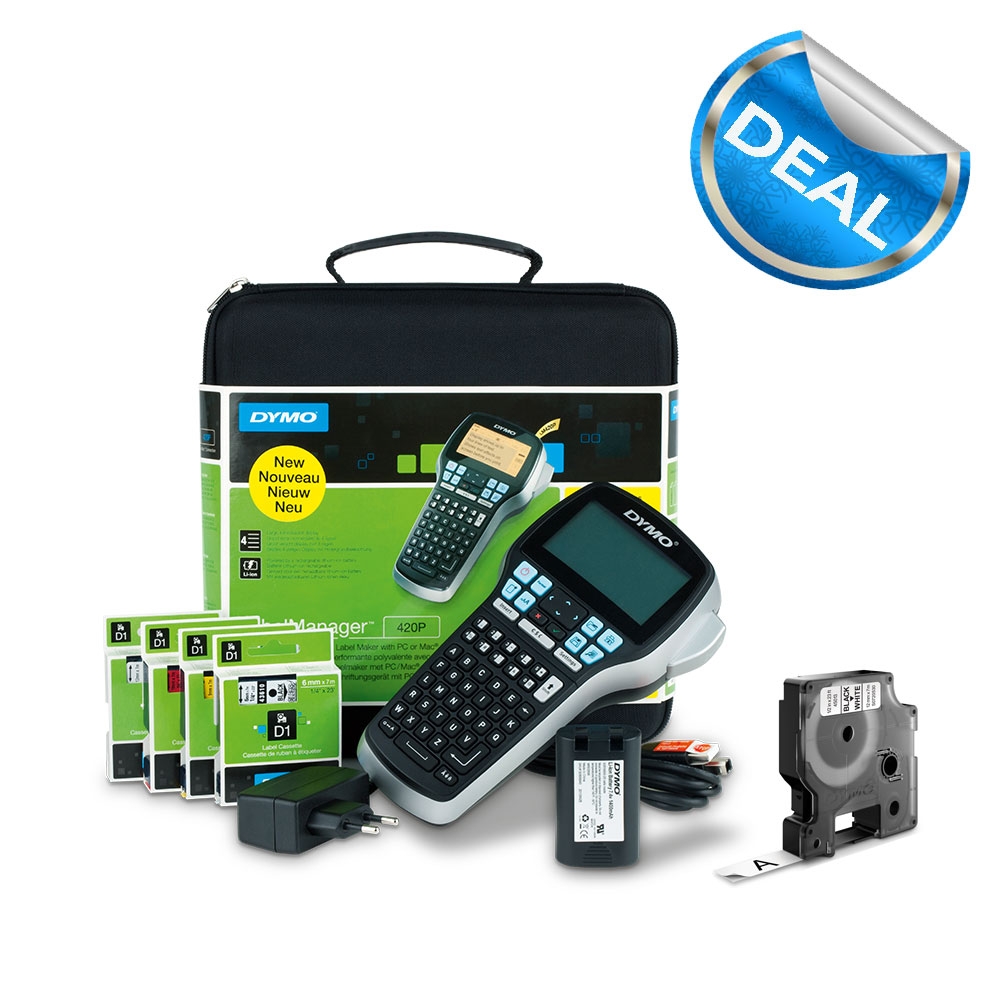 DYMO LabelManager 420 Labeling machine, briefcase kit, PC connection - for those who need a quality labeling machine. It works connected to the computer or using its own keyboard.
Supplied with rechargeable Li-ion battery and AC adapter. This portable label printer was created for large, complex labeling and guarantees legible labels that stick and stay glued for any challenge.
Connect via USB cable to a PC (Windows) or Mac and use Dymo Label v.8 / Dymo Connect software to create barcodes, tag labels, or even tag groups from excel tables or databases.
Disconnect the Dymo LabelManager 420P label printer from your computer and use it on the ground as a fully functional portable label printer.
With the help of hotkeys (easily explore the menu of the machine) and the detailed but well-tuned interface, you get full access to many label templates.
It can cover all the need for labeling in an office, warehouse, production hall, clinic or medical laboratory and beyond!
Printing Type: Thermal transfer
Functions: Automatic shutdown,Hot Keys,Fixed Length
Weight: 938 g
Package Contents: Rigid textile,Li-Ion Battery,USB Cable 2.0,Quick user guide,Software Dymo Label v.8 on CD,Dymo Charging Adapter,DYMO LabelManager D1 plastic labels, 19mm x 7m, black on red, 45807 S0720870,DYMO LabelManager D1 labels, 12mm x 7m, black on white, 45013 S0720530,DYMO LabelManager D1 labels, 9mm x 7m, black on yellow, 40918, S0720730,Aparat etichetat (imprimanta etichete) DYMO LabelManager 420 kit cu servieta, conectare la PC S0915480 915480,Etichete autocolante, DYMO LabelManager D1, 6mm x 7m, negru/alb, 43613, S0720780
Resolution (Dpi): 180
Power Supply: AC Source,Accumulator
Connection: USB Cable
Battery type / number: Li-Ion battery
Consumables Used: LabelManager Labels (D1),Durable LabelManager (D1) Labels
Keyboard: ABC
No printed labels / min: Nu
Applications: Assets,Barcoding
Range: Label Manager
PROMO Bundle: Yes
Maximum label width: 19mm
Print speed: 12mm/sec
Screen: Monocrom 3.29 inch
Free App: Dymo Connect
Text lines No: 4
Cutter Type: Manual
Library Symbols: 325*
Vertical writing: Yes
Mirror writing: Yes
Memory: 9 labels
Warranty: 2 years
Barcode: Yes
Fonts Type: Normal,Bold,Italic,Underline,Toate existente in stoftul actualizat
Compatible operating systems: Windows 7 or later,Mac OS X v10.4 or later
Consumables and accessories
---
The products found on the site www.sancogrup.ro are present and on public procurement SICAP platform, under the registration of the CPV concerned;
You have chosen a product or service from nooastra offer, you want to purchase and is not available in the SICAP? Contact us to publish;
Payment can be made by OP, before delivery at our treasury accounts in the 24-30 days of the month.