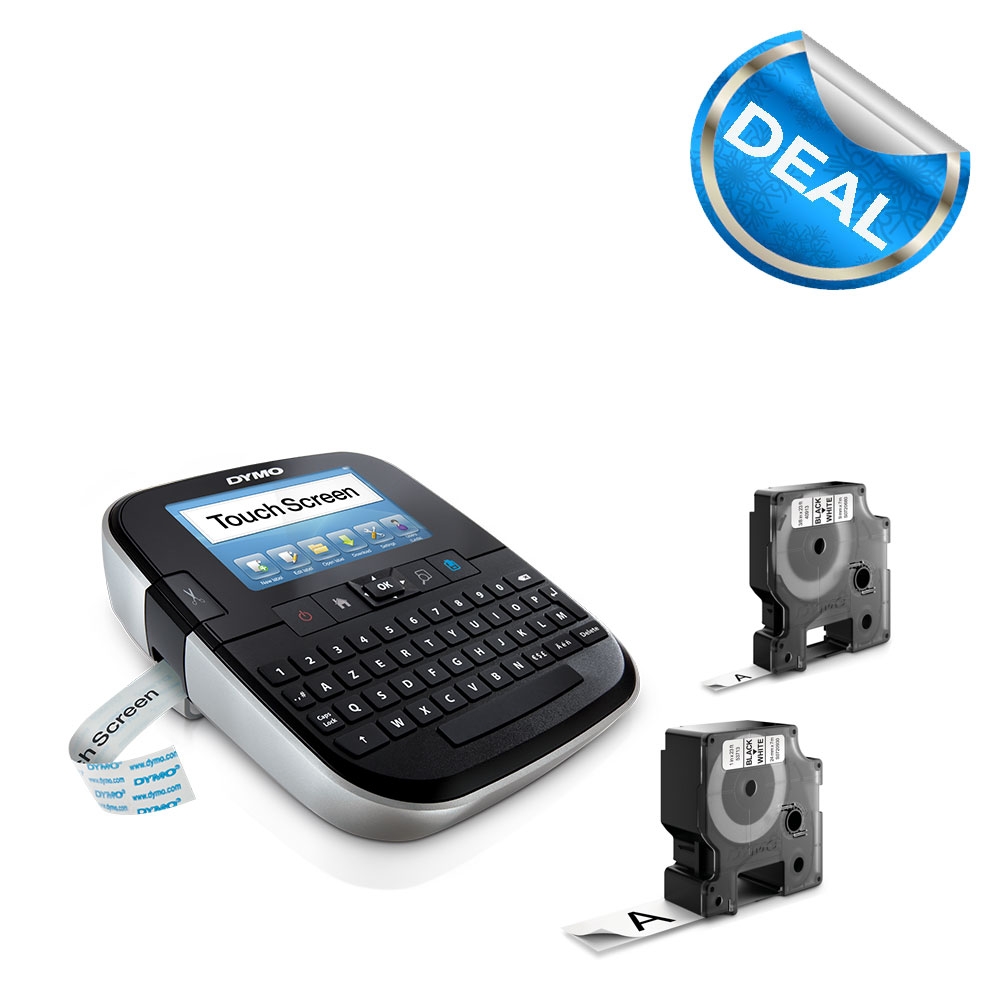 Labeling machine (label printer) Dymo LabelManager 500TS with PC / Mac connection and large size touch screen, full color and QWERTY keyboard.
The Dymo LabelManager 500TS offers a variety of sizes, styles and symbols, plus PC or Mac connectivity, for the most customizable label editing process.
The Dymo LabelManager 500TS labeling machine prints images, barcodes and logos at a resolution of 300 dpi. It can store more than 500 frequently used labels for added professionalism and efficiency.
Configure up to five different user profiles so you can share the device with friends or colleagues, without losing the settings.
D1 labels for Dymo LabelManager 500TS:
Standard LabelManager D1 labels

, available in 6mm, 9mm, 12mm, 19mm and 24mm widths - are perfect for hundreds of tasks in the office or at home, such as ordering, storing and managing assets.

Permanent D1 polyester labels

, available in 12mm and 19mm widths - identical to standard D1 labels, but provide a permanent adhesive to remain glued and fixed longer.

Flexible Nylon D1 labels

, available in 12mm and 19mm widths - for curved or highly textured surfaces
Printing Type: Thermal transfer
Functions: Automatic shutdown,Hot Keys,Fixed Length,Coduri de Bare,Network Printer,Mod litere mari,Taste navigare,Light screen,Serialization
Weight: 1.735 g
Package Contents: Etichete autocolante, DYMO LabelManager D1, 9mm x 7m, negru/alb, 40913, S0720680,Cablu USB,Li-Ion Battery,Ghid de utilizare,Dymo Charging Adapter,Etichete autocolante plastifiate, DYMO LabelManager D1, 24mm x 3m, negru/alb, 53713S,Software si manual utilizare pe CD-ROM,Aparat de etichetat DYMO LabelManager 500TS DY946420 S0946420
Resolution (Dpi): 300
Power Supply: AC Source,Accumulator
Connection: USB Cable
Battery type / number: Li-Ion battery
Consumables Used: LabelManager Labels (D1),Durable LabelManager (D1) Labels
Keyboard: QWERTY
No printed labels / min: Nu
Applications: General Identification
Range: Label Manager
PROMO Bundle: Yes
Maximum label width: 24mm
Print speed: 18mm/sec
Screen: TouchScreen Color 4 inch
Free App: Dymo Connect
Text lines No: 8
Cutter Type: Automated
Library Symbols: 325*
Vertical writing: Yes
Mirror writing: Yes
Memory: 500 labels
Warranty: 2 years
Barcode: Yes
Fonts Type: Normal,Bold,Italic,Underline,Toate existente in stoftul actualizat
Compatible operating systems: Windows 7 or later,Mac OS X v10.4 or later